JAMES MEAGHER CARROLL AND THE DONNOLLY MURDERS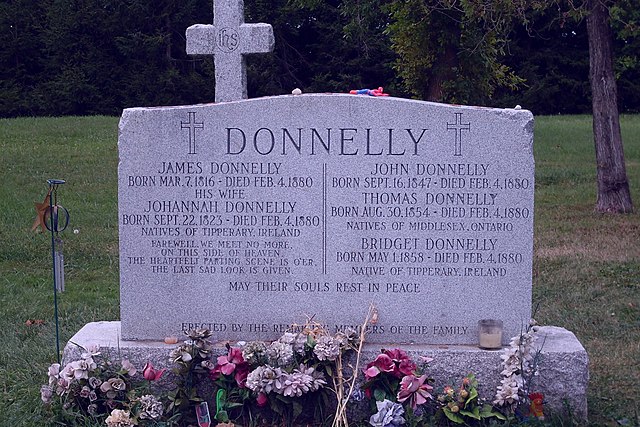 It's like Christmas when the Golden Museum received a large lot of old legal documents that pertain to some of the homesteads in the area.
The names on the paperwork are really the who's who of early Golden and the packages begin with the original application for homestead. One of the larger packages was assigned to James M. Carroll.
Many characters' figure in the history of an area, and many of those characters have past lives that we know nothing about. Some of them have done great things and some have dark pasts that are best unknown.
This story begins in Ireland in the middle 1840's when the battles between the warring Whiteboys (who were Roman Catholic and anti protestant) and the Blackfeet (who were both Roman Catholic and Protestant but definitely anti Whiteboys).
James Donnolly, a good looking, heavily built man of medium height, married Johannah Magee, a plain heavily built woman, in their native Ireland in 1841. Johannah soon gave birth to a son James in 1842. James wanted more than poverty, famine and conflict for his small family and made the decision to bring them to Canada.
Thousands of people were pouring into Canada from Ireland at that time, and when a family arrived they were brought into an immigrant shed to await clearance. Like the ships that brought them, the immigration shed where filled with poverty, starvation and disease. Most people arrived with little or no money but they had the hope that they had left the worth behind.
Once they arrived in Canada, the family was moved from one shed to another until they reached the end of the line in London, Ontario. Finally leaving the shed they took a wagon north into Biddulph county. At Elginfield they came across Andrew Keeff's tavern, the sight of a desperate battle that had taken place in 1845. This was probably when the Donnolly's first found out that the Tipperary feud had followed them to the new land.
The inn itself was the border between the Tipperary Protestants of London Township and the Roman Catholics of Biddulph. Donnolly immediately made it clear that we was a Blackfoot.
They didn't have enough money to buy a farm of their own so they did what many people did, they found a piece of vacant land, squatted and planted crops.
The Donnolly's stuck to themselves and gained the reputation of being Black Irish. After ten years on the land the absentee owner sold the land to Patrick Farrell. Donnolly was not going to be thrown off the land that he had worked so hard on for 10 years so they went to court and was awarded 25 acres for his years spent working the land. A restless peace returned to the farm.
At a barn raising on June 27, 1858, Donnolly and Farrell got into a fight and while defending himself from tan axe wielding Farrell, Donnolly picked up a handspike and threw it at Farrell. It lodged in the man's temple and he died three days later. A warrant was sworn for the arrest of James Donnolly for the murder of Patrick Farrell.
For two and a half years Donnolly hid out in different parts of the country before finally giving himself up. A short trial found him guilty and he was sentenced to hang. Johannah was not about to see her husband hanged and she appealed to their family friend and local constable Jim Hodgins. They began a petition asking for clemency. It worked and Donnolly's sentence was commuted to seven years in prison.
Although her hands were full with her husband in prison and eight children of her own, James Carroll asked his wife to care for Billy Farrell, the son of the man he was imprisoned for killing. With James in prison things were quiet for a time. That is until William Donnolly started a stage line in direct competition to one that already existed.
Fights broke out all over, barns were burned, stages and animals destroyed. The whole situation in Lucan was about ready to burst, and while they had no proof to back them up, many people were sure that the Donnolly family was responsible for the problems that were erupting. In the winter of 1875 a Vigilante Committee was formed, headed by Patrick Breen who were determined to bring the family to justice.
A private detective was hired and soon they believed they had enough evidence to arrest five of the seven Donnolly brothers on charges from arson to murder. Evidently the jury didn't think the evidence in the cased that strong because in the end, only three of the brothers got time. William received nine months for assault; James got nine months for arson and assault and John was sentenced to three months on a similar charge.
On March 18, 1878, an attempt was made on the life of police chief, Sam Everett. He arrested Robert Donnolly for the crime and the young man was sentenced to two years in prison. This was not what the Vigilante Committee had in mind at the start, so after about a year, when Everett had not succeeded in putting any more of the Donnolly's away, he was fired and James Carroll was hired to take his place. He immediately brought his strong arm tactics against the Donnolly's.
In a bar fight on Dec 9, 1879 Michael was knifed to death, many miles from his home. On January 15, 1880, the barns of Patrick Ryder were torched and although Johannah and the boys were away from home at the time, James Carroll had a warrant sworn out for the two elder Donnolly's. A hearing was set for Feb 3, 1880.
Believing that he would be away from home for most of the day to attend hearings, James brought home Johnny O'Connor to do the farm chores while he was away. They were asleep at 10:00 o'clock when James Feehley stopped in for a brief visit. Stating that it was hot out he asked if he could leave his coat on a hook inside the door. If they left the door unlocked he could quietly pick it up on his way home.
The family was fast asleep at 1:30 am when Constable James Carroll himself in through the unlocked door. Carroll went immediately to the bedroom and dragged Tom Donnolly off the bed and handcuffed him. He was eventually joined by the elder Donnolly's, Johanna, Bridget and the neighbor boy Johnny. Carroll then called in other members of the group who were waiting outside. They dragged Bridget to the kitchen, beating her to death there. Tom put up a fight, but was eventually overpowered, and the swing of a spade in the dark decapitated him in the front yard. His body was dragged back into the house to lay beside those of this parents, James and Johanna, who had been shot to death by JamesCarroll. The vigilante's set fire to the house and rode off into the night.
John Donnolly was staying at the home of his brother William and his wife Nora, and it was here that they struck next. Upon hearing a voice outside John rose and opened the door. He was shot squarely in the chest. Strangely enough the vigilante's then rode away, maybe they thought they had killed the man of the house but William was able to look out the window and recognized the leader James Carroll.
Once morning came, Chief Williams of London was sent for and an inquiry began. On the word of the eyewitnesses, Johnny O'Connor, William Donnolly and others, warrants were sworn for 10 men. James Carroll among them.
Throughout the trial 93 witness were called and late on Saturday night, five full days after the trail began, the foreman returned to tell the court that they were hopelessly deadlocked and a new trial was ordered. The second trial had two judges on the bench and after another five day trials the men were found not guilty. It seems impossible that they could find James Carroll not guilty when eyewitnesses watched him raise his gun and shoot James Donnolly but fear is an amazing motivator.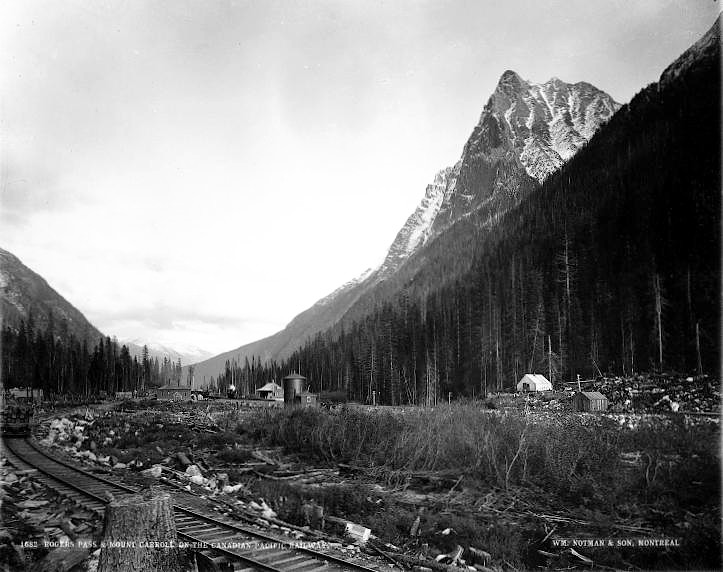 It wasn't long until all the murders moved from the area, many were never heard of again. Not so James Carroll, he moved here into the Columbia Valley in about 1886. We do have records kept by a store merchant in Donald in 1887 that James Carroll was a regular customer, who often purchased large shipments for the general store he ran in Rogers Pass.
He never missed a dance held in Donald and was considered quite a good dancer. It appeared also that he was highly respected by all he had contact with and he never missed an opportunity to present himself for jury duty. He was still in business in Roger Pass in 1897 but then we lose him for a few years.
In 1900 he started the long process of applying for and then proving up a homestead at another little CPR stop called Beaver, at the spot where the Beaver River runs into the Columbia River. For the next dozen years he would work on the property and keep up a pretty steady stream of correspondence with the government regarding it.
He turns up in Golden in 1911, working as a handyman in the Queens Hotel but by this point his health was declining. He moved for a time to Kimberly and then from there on to Vancouver, BC where he died in 1915.
This man, who was responsible for one of the worst mass murders in Canada's early history, lived in our midst as a respected citizen for at least 28 years. I wonder if the other members of the committee managed as well.