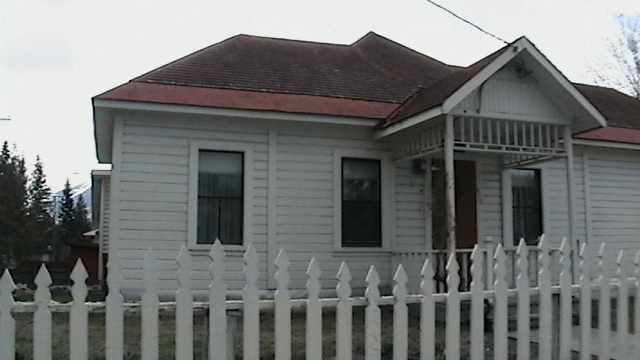 The Wixon House, built in 1893, is a very special property located directly across the street from the hospital on a corner lot. Most local residents can pick it out because of its red roof.
Built for Golden's first permanent doctor, the home was quite small as the doctor was a bachelor but soon he found a wife and in 1895 the house got an addition. When they started to grow their family the little house just wasn't going to cut it so they bought 4 lots a few streets over and built a grand house that had an office for the doctor.
In 1912, Dr. Taylor's new home was finished and he moved his family there at which time he sold the little house by the hospital to Arthur Wixon. On June 1, 1912 he married Mabel Dawson, a young woman born in Oxford England who had only arrived 3 days before.
Another addition was made to the property and the house now included 2 bedrooms, a full bathroom, dining and living room, kitchen and pantry.
In 1913, a son, Joseph, was born to the couple. Unfortunately Joseph passed away just 4 days after his birth. Daughter Ruth was to follow in 1916 and was an only child.
Mabel was an ardent garden and seamstress. She spent the biggest part of her life caring for others in her own humble way. She was always willing to lend a hand.
Ruth grew up in the house that her father gave her mother as a wedding gift in 1912 and she loved it so much that she was determined to preserve its history by maintaining the house as it was when she was a girl.
She went to school in Golden until she was about 16 years old when she went to work to help the family as the depression was hard on everyone and her father was having difficulty finding work. They took in laundry and did lots of other odd jobs to make ends meet.
Ruth went to work at the hospital and many of today's population who are in their 50'sand 60's can thank her for their safe arrival into the world. She loved to help people and cared people in hospital and out as her mother had.
She also worked as one of Golden's first telephone operators, back when everyone was on one line and you had to listen to the short and long rings. If you were two shorts and three longs and that was how many times it rang it was for you. Ruth's career as an operator came to an end when the system in Golden became automated.
She took great pride in her garden and used her abundant harvest to help people in need and she worked in her garden until this past year.
In 2007, Ruth Wixon, daughter of Arthur and Mable passed away leaving the property to the Town of Golden for future generations to enjoy.