Nostalgia – September 5, 1979
A REGULAR FEATURE IN THE GOLDEN STAR
Bill Crandall story as told to Mike Redfern.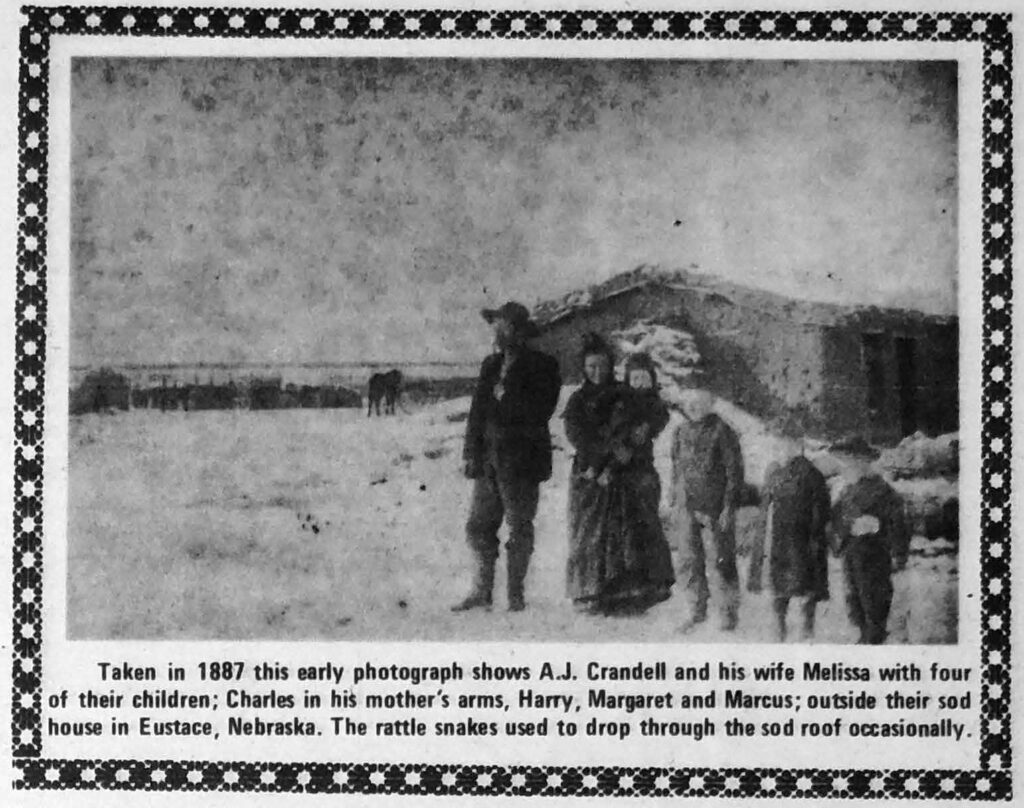 It's seldom you'll find a man these days who's still driving the same model vehicle that he was fifty years ago, but those of you who have seen Bill Crandall driving his Ford model a pickup around Golden during rodeo days well no you've found at least one. Bill drove his first model A over 50 years ago and got married in one almost identical to his present vehicle. But were jumping the gun. Bill story starts well before the model A was even thought of.
Back in 1643 in New York there lived one Horace Crandall. To the best of Bill's present knowledge he is the first known ancestor of the Crandall family in North America. The family name is apparently derived from a Welsh place name, Crane Dale, so presumably Horace had made the long and difficult journey across the Atlantic from Britain.
His name carried down the family for generations. Around the early part of the 19th century a young descendant of his was born in the USA and christened Horace in the family tradition. He was Bill's great grand daddy. The story goes that Horace met and fell in love with a girl in Iowa and asked for her hand in marriage. Now Horace was a little, short fella and the girls father held some doubts about his capability of becoming a good farmer and supporting his daughter. He was too small, he reckoned, to manage the hard physical labour that farming meant in those days. So, he put him to the test.
"Young fella," he is reported to have said, "if you can lift that steer over there clear off the ground you can have her."
Needless to say, Horace, though small, was strong and manfully lifted the said steer to the satisfaction of his future father-in-law. Little is known of great-grandfather Horace's life except that he fought in the American Civil War and was killed.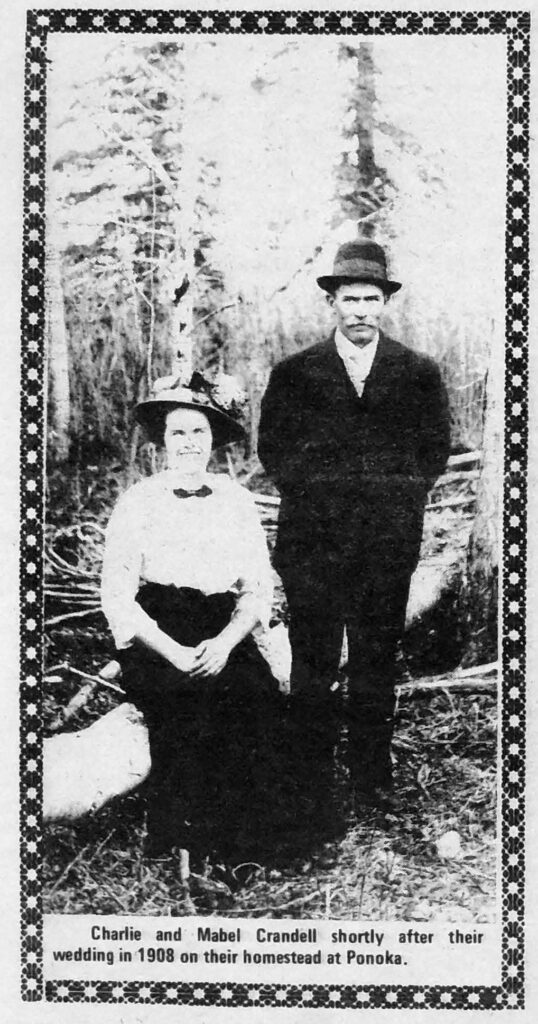 One of his sons, A. J. Crandall, was born in Nebraska and grew up, married and raised his family there before moving them, lock, stock and barrel, up to Alberta to homestead near Ponoka around the turn of the century. One of A. J.'s sons, Charles, had been born in Nebraska in 1887 and in 1908, not long after the Crandalls had moved to Ponoka and the five Crandall boys had taken up their homesteads of their own, Charlie married one Mabel Franklin. It was into Charlie and Mabel's family that bill was born.
The circumstances of Charlie and Mabel's marriage are unusual in one respect that is worth relating.
Mabel Franklin was from Riceville, Ontario. She was one of several daughters of Mrs. Bertha Franklin, who, following the death of her husband, had brought these fine girls out west in search of eligible bachelors to marry. She's struck mother lode when she encountered the Crandall boys at Ponoka, and three of her daughters married into the Crandall family. Two families with history stretching back to the early days of settlement in North America where firmly cemented together on the homesteads of Alberta. Mabel's paternal grandfathers cousin claimed relationship with the famous Benjamin Franklin.
Of the five Crandall boys, the three youngest, Marcus, Charlie and Harry, married the three Franklin girls, Bertha, Mabel and May. While these three boys families, and those of the other two Crandall brothers, Kurt and Chester, were busy homesteading around Ponoka, their mother took three of her four daughters down to Sumas, Washington.
While the boys could all make their way farming, she thought, it was no life for a girl. She was bound and determined to give them an education and so she took the three youngest, Mary, Jessie and Josephine to Sumas to put them through school. All three girls completed their education and in turn became schoolteachers. Later A.J. joined his wife in Sumas.
Back in Ponoka Charlie had sold his homestead and bought a farm. Charlie was a successful farmer and a good businessman as well as father to a steadily increasing family. From 1909 to 1919 Mabel bore him six children at regular two-year intervals.
Bill was the fifth child of the family, born in 1917, just before his dad sold the farm at Ponoka and bought a bigger one at Clive, Alberta. This farm boasted a large farmhouse with electricity and running water and was a tribute to the business acumen of Charlie an example of his good business sense was the occasion of an auction at a neighboring farm one spring. A sudden blizzard that day kept everyone away from the auction save Charlie. The poor farmer, anxious to sell so he could move, agreed to sell the whole lot to Charlie. Charlie paid him his money and when the weather got better, re auctioned the items he had bought and made himself a profit of $600, a goodly sum in those days.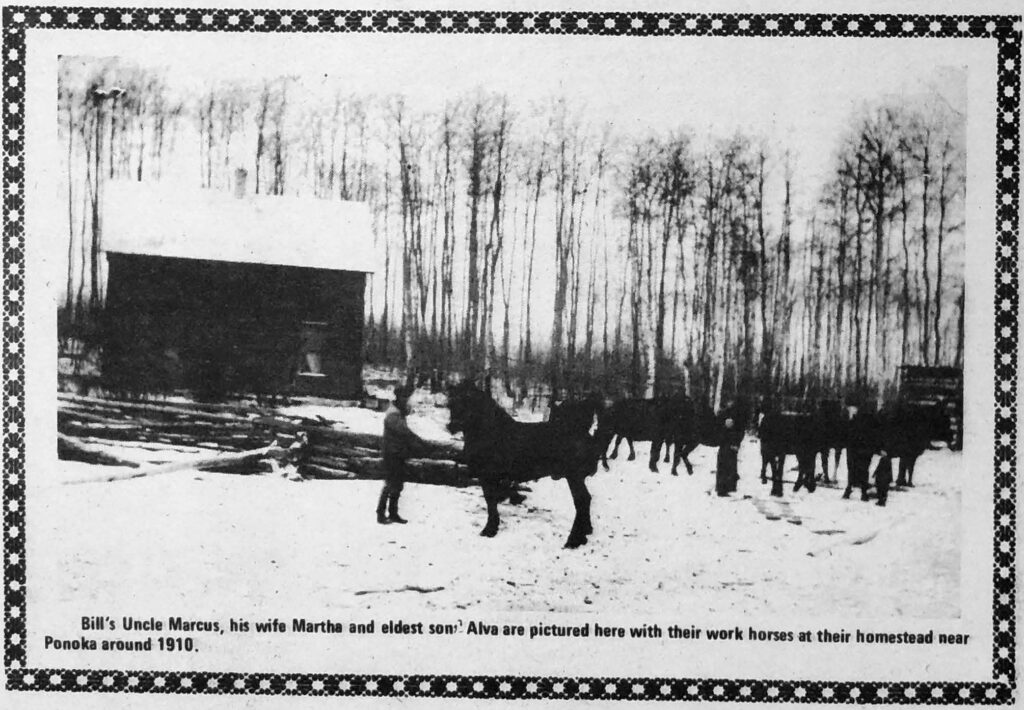 Bill was a practical man and had no truck with religion, although his wife was a staunch churchgoer and brought up her children in the Seventh-day Adventist church. Charlie was strong and healthy and by all rights should have lived a long and prosperous life but in the spring of 1920, when Bill was just three years old and his younger brother Clifford barely a year, Charlie caught pneumonia and died.
In 1920 there was not a lot you could do about pneumonia even in a hospital. Out in the prairies a local doctor could do practically nothing. As it was Charlie would have nothing to do with his local doctor and insisted on being seen by his friend, Dr. Hines from Lacombe. However, it was to no avail and despite several visits from Dr. Hines Charlie died.
After Charlie's death, Bill's mother was left with six children to raise, aged from 1 to 11 years of age. Charlie had left her provided for to some extent. Just before his death he was he had taken out a life insurance policy and although he had never paid a premium, for he died before the first premium was due, the company honored the policy. Mabel sold the farm at Clive and moved into the town of Lacombe where she brought up her family on the proceeds of the sale of the farm and the money from the insurance.
Bill recalls that he led a perfect kid's life in Lacombe. The kids attended the 7th Adventist school and spent their leisure time swimming in the lakes in summer and skating on them in the winter.
One of Bill's memories includes the family of another Golden resident Dr. Al Trott. Doctor Trott's parents owned the grocery store in Lacombe where Mabel Crandell did her shopping. Bill recalls that at each month end when she paid her bill there was always a big bag of candies put in with the groceries.
It wasn't until about 1929 that the money started to run out and Mrs. Crandall moved her family down to Walla Walla, Washington, so that the boys could earn money picking fruit. In 1930 they moved from Walla Walla to Bellingham and lived there through the early years of the depression.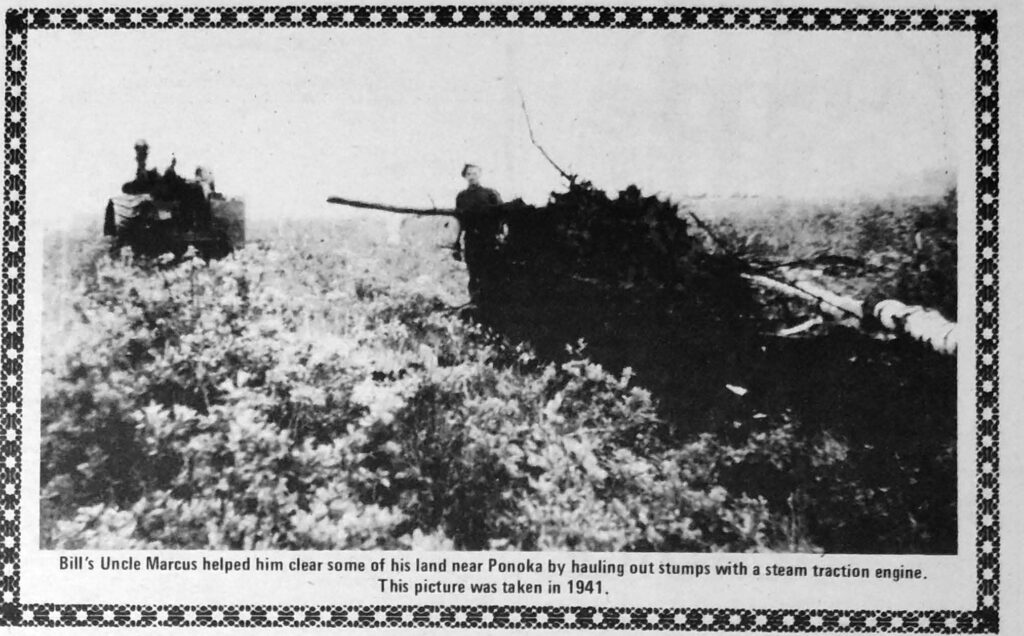 By the spring of '32, when he was 15, Bill was impatient to get back to Alberta and go farming. His uncle Marcus, still living in Panoka, had a farm at Lundon, Washington, where Bill worked for two months and made himself a whole $10, enough for him to decide to make the journey back to Panoka. Things were pretty rough about then for farmers, he recalls, with wheat fetching about $0.19 a bushel and a 200 pound hog selling for $3, or 1 ½ cents a pound.
But bent on farming he was and so he went to Vancouver where he boarded a freight train. The C.P.R yardmaster, discovering his presence in a boxcar, asked him where he was going.
"Alberta," came the reply.
"Got a job?" asked the yardmaster.
"Yes," replied Bill.
Well, go out the yard and catch the train as it leaves. It'll be moving slow, ordered the roadmaster. He left on the freight at 10:30 that night. In the morning he recalls there were feet hanging from every boxcar. At each place they stopped the men would jump off the train and buy food. Bill recalls that the guy he pulled up with on the journey palled up with on the journey had no money and the first $3 of Bills savings were spent on route to Calgary.
He slept on the cat walk around the coal tender at night enjoying the warm draft from the engine, for it was just me and still cool in the mountains, and avoiding the smoke that was in the tunnels choked all those riding further back in the train.
When the train arrived in Calgary,Bill emerged covered in coal dust and commenced to walk to Panoka, a distance of some 150 miles or so. As luck would have it a friend from his Panoka days gave him a lift to Lacombe and from there another fellow hauling grain gave him a ride to within 10 miles of his Uncle Marcus's farm.
He walked the last 10 miles and arrived, tired and dirty, with just the clothes he stood up in and his remaining seven dollars.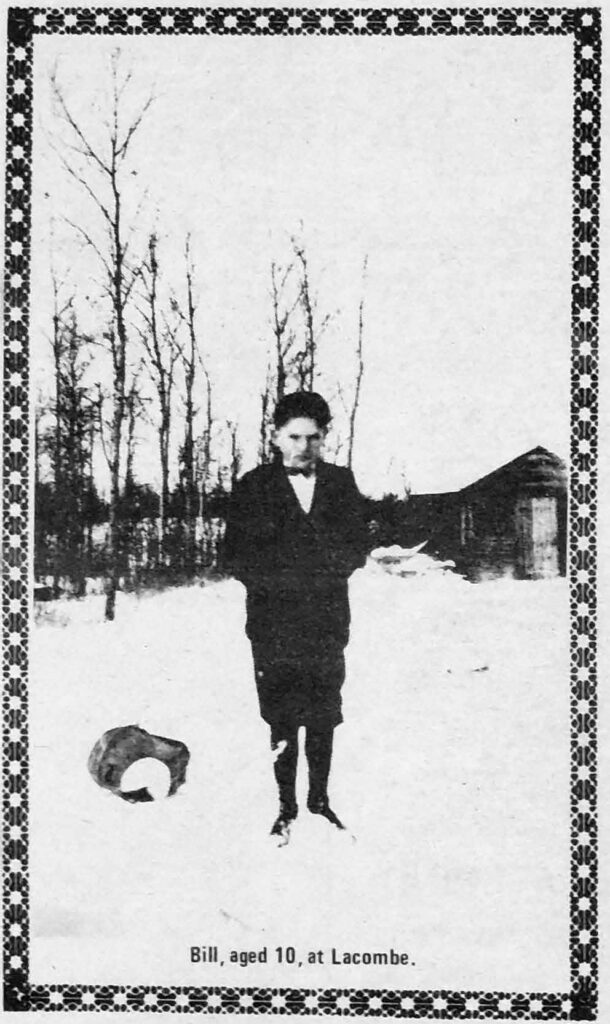 Bill worked for his Uncle Marcus for three years until, at the age of 18, he rented a place of his own and said about becoming his own man. He was never to work for anyone else again.
The place he rented was ½ section with about 100 acres broke. He had saved about $150 during the previous three years and his mother sent him $100 from Bellingham and with that princely sum and Ted had 10 head of heifers all in calf he started his independent farming there.
His heifers each bore a healthy calf after which he milked them daily, separating the cream which was taken to Panoka once a week and which gave him his only cash return, $3 a week.
He summer fallowed, planting just 30 acres of oats that first year. He was hailed out. The next year he tried again and was dried out. After that things got a bit better.
He had six head of horses, four of which were unbroken colts. He drove them three and three on the plow, with a broke horse between each pair of colts. It didn't take long, reflects Bill, for those colts to quiet down.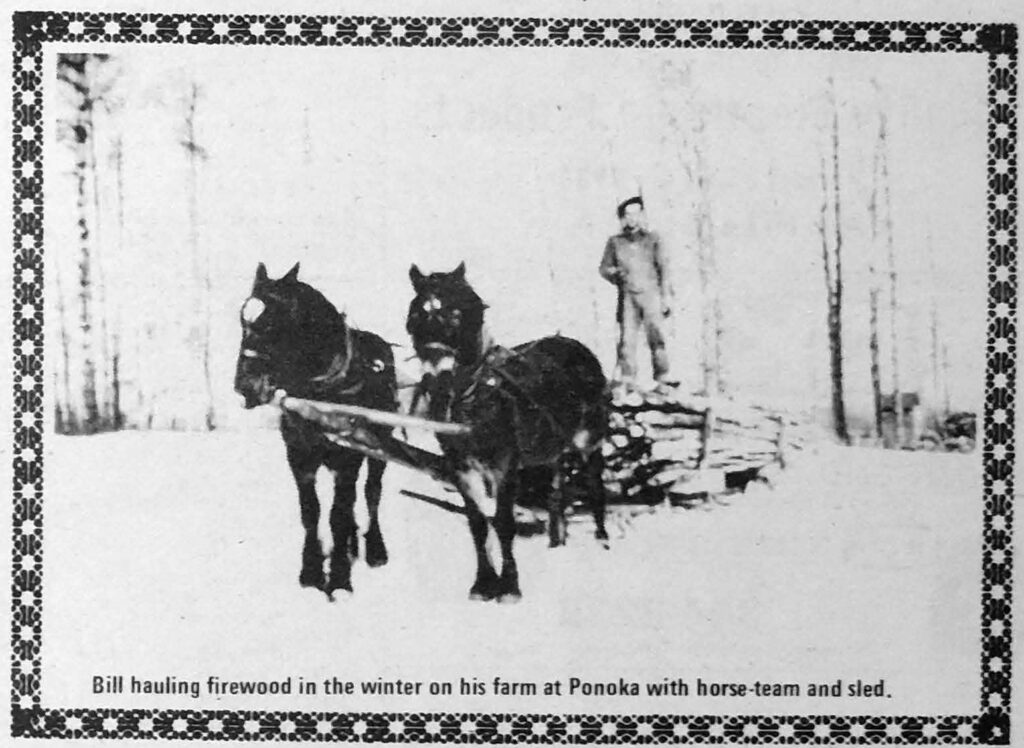 The land was rocky so rocky that often when the plow hit a stone he'd get thrown off. One day the plow struck a stone which shot up and broke the doubletree.
The double tree came back and broke the leg of one of his horses which he had to shoot. Such were the fortunes of homesteading.
Bill had an awful time with his cows, he recalls. He had a straw barn, a familiar sight on the prairies in those days built of poles along each side with rails across the top the walls built up with roof poles covered likewise.
It never got wet inside while it was raining, commented Bill, but then after the rain stopped outside it kept raining inside for a week as the water dropped through the straw.
Getting his semi wild cows into this straw barn for milking each evening, at the end of a full day of plowing or clearing and breaking land, was no easy task. They'd run every which way as he attempted to drive them from their fenced pasture into the straw enclosure. Bill still had the scars he got running into the barbed wire in his effort to herd them in.
On his rented farm near Panoka. Bill lived in a granary close by the straw barn, for there was no house on the property. Whenever he was hungry, he would shoot a prairie chicken off the straw stack where they came to roost.
"I could have a good meal anytime," claims Bill. It was a pattern that was to last him the rest of his life. Always owning property and working for himself, Bill was never to have much ready cash with which to buy things, yet he was never without the basic necessities of life.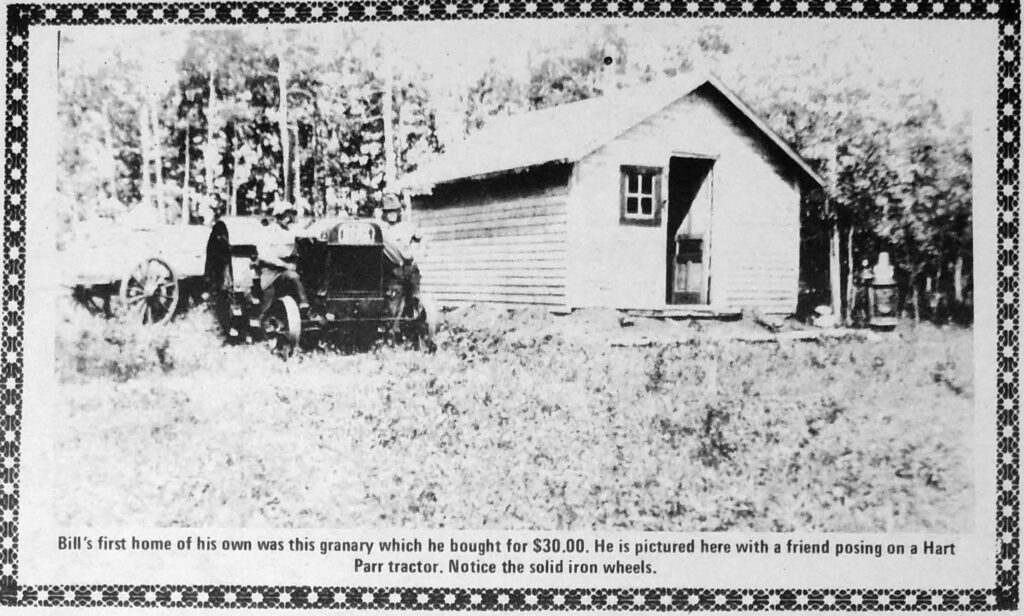 He spent six years living as a bachelor in his granary on the rented farm, breaking felled trees and hauled logs to town with a horse team. He bought another granary to live in. He also became the proud owner at that about this time of a model A Ford he and a neighbor, without sufficient money to buy spare tires when needed, would lend each other a wheel when they were short of one and needed to go to town. He attended dances and house parties. One of the girls he knew who also attended dances there was Helen Kimmel. She later married another pinnacle local boy, Bill Kramer and moved to this valley where the two of them have been residence for many years period
In those days the whole community would turn out to a house party, making a collection for the musicians, usually local boys who could play the fiddle or accordion, the ladies bringing lunches for everyone.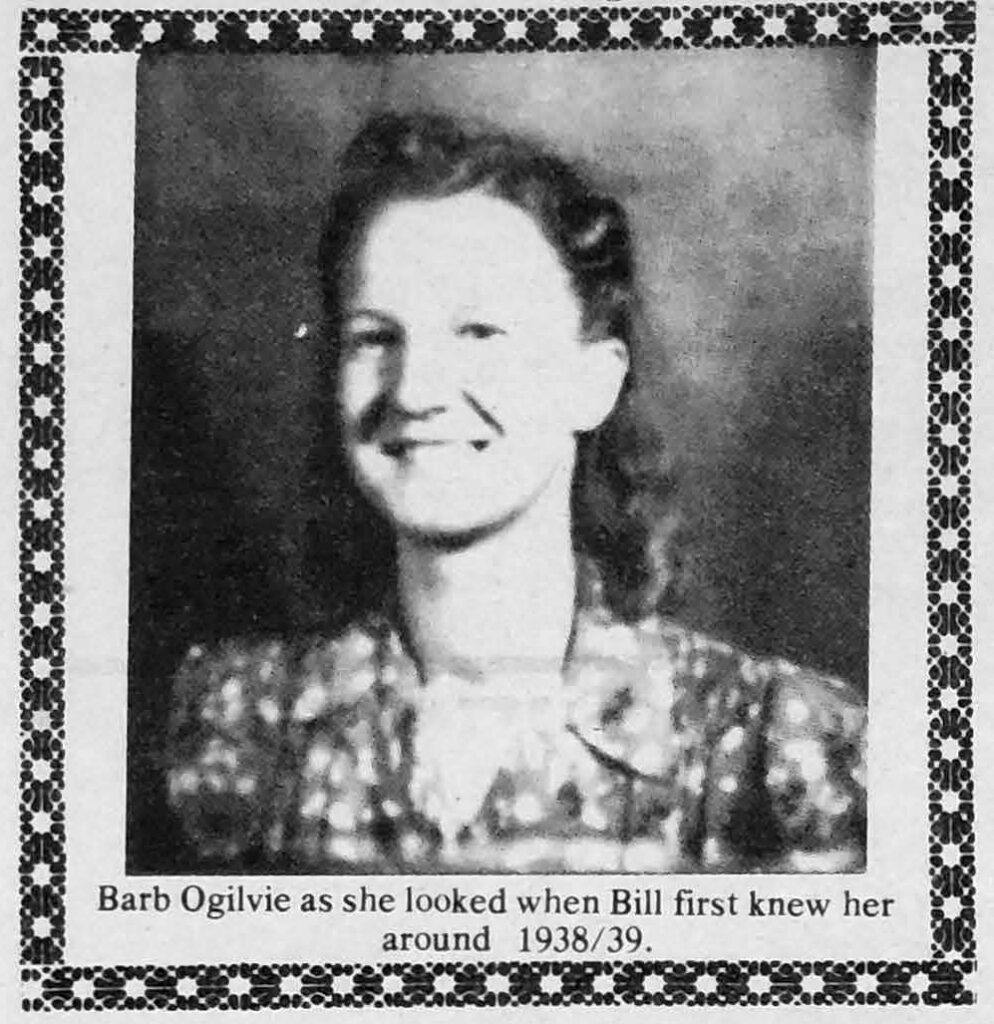 And then he met Barb Ogilvie. Barb's family had lived in the Panoka area ever since her dad came out from Nova Scotia. Barb had been born just a mile from where Bill was born but never met Bill until after he returned from the States. With her two brothers and her sister she lived and worked on the family farm, leaving the one room country school at age 13 to help around the place full time. They had a hired man and always boarded the school teacher so there was plenty of domestic chores for a girl to do.
From Barb's point of view Bill was a pretty eligible bachelor. He had his own place which included a nice little house, for Bill had taken the roof off the granary and extended the building from a 12 by 16 foot granary to a 16 by 24 foot house. He re roofed it, putting a nice curve in the roof, which gave it a very distinct appearance.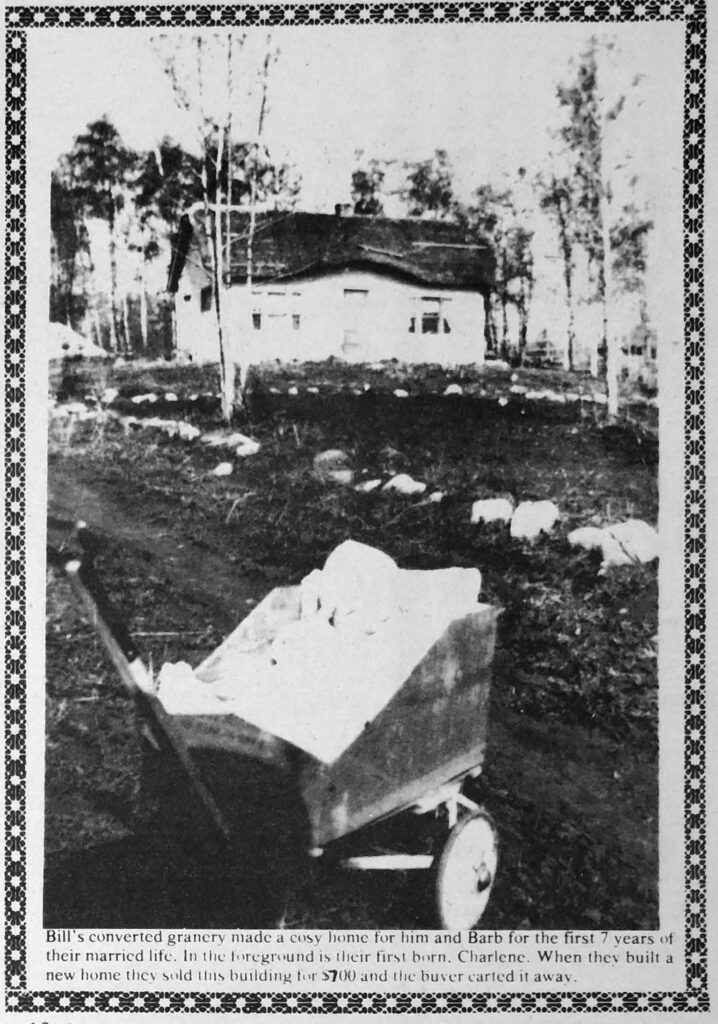 As Bill sold the timber, he cut he cleared and broke the land extending his farmable acreage when his neighbors moved away, he bought the adjoining quarter section Bill took Barb to the local dances in his model A. Barb well remembers one such occasion. When it was time to return home Bill declared that his headlights had gone but for some reason, he had a Lantern hit in the back. He hung it on the front and slowly drove her home period to this day Barb is sure he planned it that way.
Bill knew things were going pretty well with Barb after he'd taken her out a couple of times when she commented that she had plenty of cows and he had plenty of horses and that together they'd make for a pretty good farm.
Bill wasn't slow to press his advantage and asked her to marry him really quick. But Barb, though willing, made him wait until she was 21.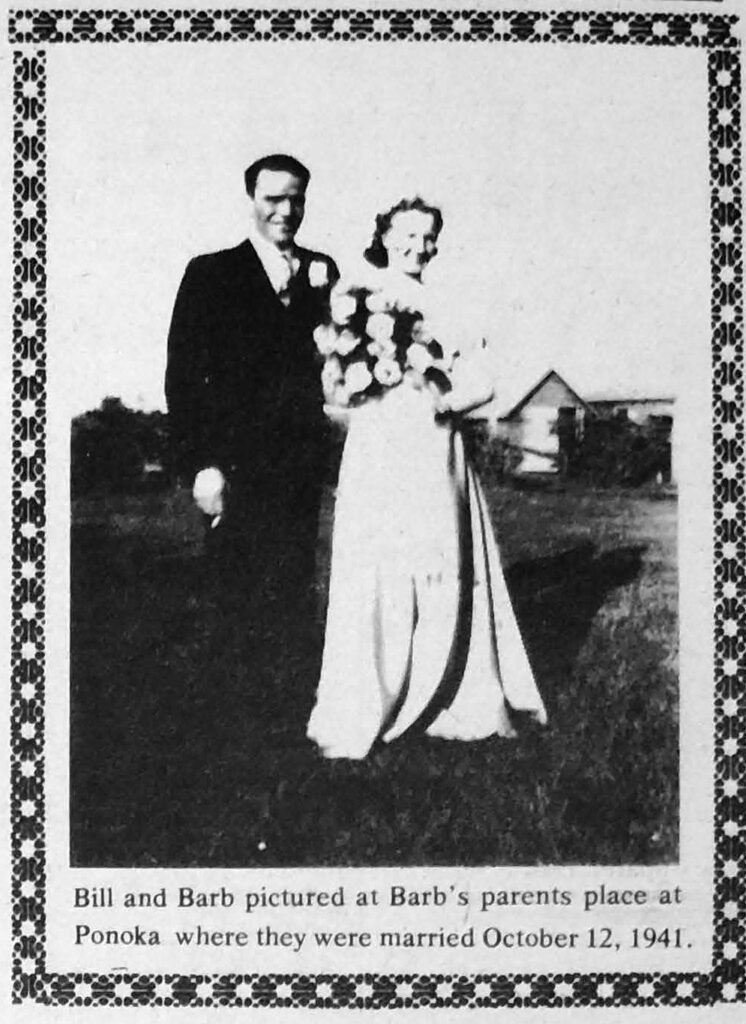 They got married in 1941 and went to live in Bill's little house.
Bill and Barb share many memories of the way life used to be on the prairies in those days. Bill recollects when the Edmonton trail was a plain dirt road. They graveled it in 1928, he recalls, and raised the speed limit from 15 mph to 20 mph.
Barb remembers her grandpa's reaction when he heard about it.
"They're going crazy he said. They'll break their necks!"
But the old model A was capable of up to 50 mph if the conditions were right. Although there was no oil produced around Panoka, the refinery at Turner Valley was already in production by the 1930s and gas was plentiful. Some farmers, those with money saved up for the good years prior to the depression, would do their plowing with gas driven tractors, using their horses for other easier work. Those same wealthy farmers were able to increase their wealth during the 30s, buying up land and farms from their last fortunate neighbors. But you had to have money.
Before bill was 20 years old, around 1936 two 37, he had his eye on the half section of land, all broke and producing grain. It was going for $10.00 an acre. He wanted very badly to buy it, and could have done so for just $500 down payment but the bank wouldn't lend him the money no matter what he tried, which included letting his whiskers grow to make himself look older. He simply couldn't get hold of the $500 and so had to let the opportunity pass. With the oil right that would have come with the land, Bill reckons he could have made a fortune on it.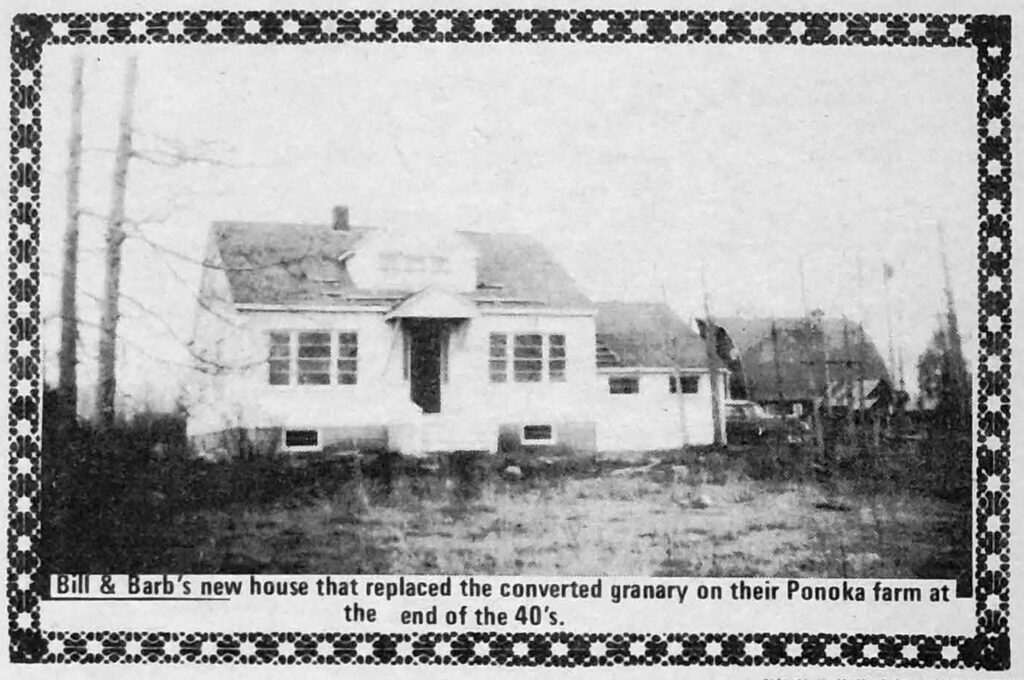 Once he was married, Bill stopped selling his lumber. After it was sawn, he stockpiled it and built a large new barn to replace the straw barn. Barb had a new house, with electric power, built to replace the converted granary. By this time, they had started their own family with a daughter, Charlene, and soon along came their son, Duane.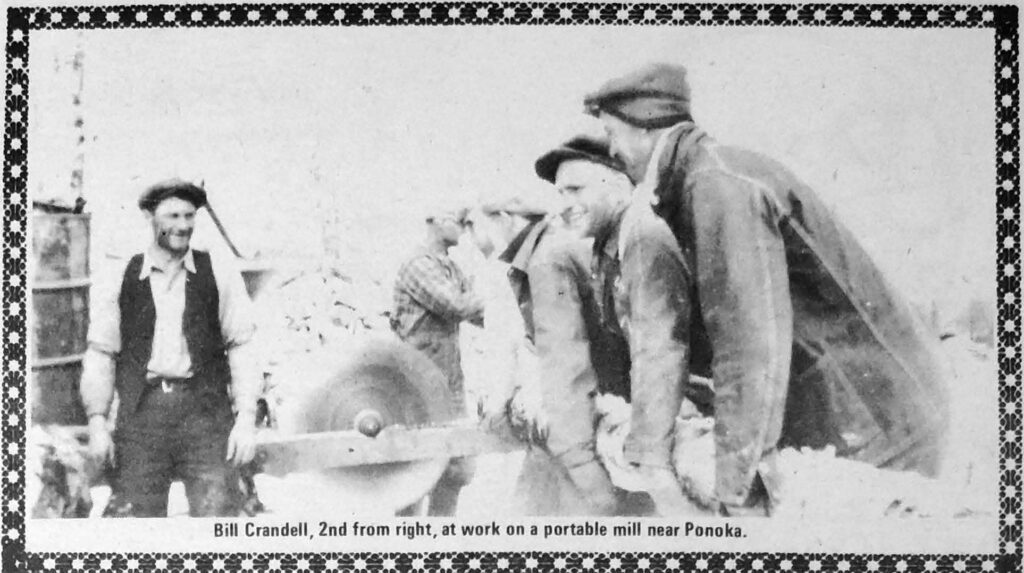 But they weren't to stay long in their lovely new farmhouse for by 1951 Bill had had enough of farming. Building his house had given him a taste for construction work and so he sold his farm, now ¾ of a section, and moved into Panoka 17 miles away. The money realized on the sale of the farm was invested in building houses.
But the fates conspired against Bill, this time in the form of an economic measure of the Canadian government that has been on of lasting benefit to Canadians, namely the creation of the N.H.A. and the provision of mortgages. Bill had planned on selling unfinished houses to young people who hadn't much money, for the down payment they. They would finish the houses themselves, saving a great deal of capital outlay, and pay off their houses to Bill over a period of time, during which, with a bit of luck, their fortunes would improve. But when the end. H. Eight. Offered mortgages young people suddenly found themselves able to buy completely finished houses for $50 down and $50 a month. Bill was left with a lot of unfinished, unsold houses on his hands.
In 1955 Bill and Barb and their two children moved to Invermere, where Bill bought a sawmill and went to work in an around Invermere. He had it located in Wilmer for quite awhile. He met old friends, Bill and Helen Kramer, now living in Parson, and they told each other their troubles. But Bill's troubles were growing less, for he loved sawmilling Ann was doing well enough at it that by 1971 he had bought 2 parcels of land South of golden, one on Mitchell Rd., the Hillary place, and one on Almberg road where he and Barb now live and which they are slowly developing, subdividing and selling. But Bill still plans to go with sawmilling again. "I love sawmilling" he says. "I've had bad times but I've had good times. You know, on paper any poor man can get rich sawmilling. Well, I've never got so broke in my life. So many little things make it impossible to win. But I still like to look at a tree and count the dollars!"
Bill and Barb's daughter, Charlene, left school in Invermere to get married but it didn't workout for her. She returned to school in Kelowna later and is still living and working there. Their son, Duane, graduated from David Thompson high school in Invermere in 1964, went to Walla Walla College where he got his B. Sc., and now lives with his wife in Nicholson where they own an operate Designers Choice carpet store.
Bill is still running an ancient model A Ford and still owes the bank as much as ever he did, but he and Barb are smiling and happy people who have gone through a lot of changes in the last 60 years and yet still seemed to be doing the same things.
"It seems like mum (Barb) and I me's been homesteading all our lives," says Bill. When we came up here to Almberg road in 1971 we still had no power and had propane lights in a wood stove.
They've recently discovered a whole branch of the Crandall family, descendants of the original Horace Crandall of New York, whom they had never known before and are busy finding out more about their ancestors and present relations. Thank you, Bill and Barb, for sharing this nostalgia with us Barb contends that the only good thing about the good old days was that when we were all younger then, but their stories seems to suggest there were plenty of satisfactions among the hard times, even in the 30s.