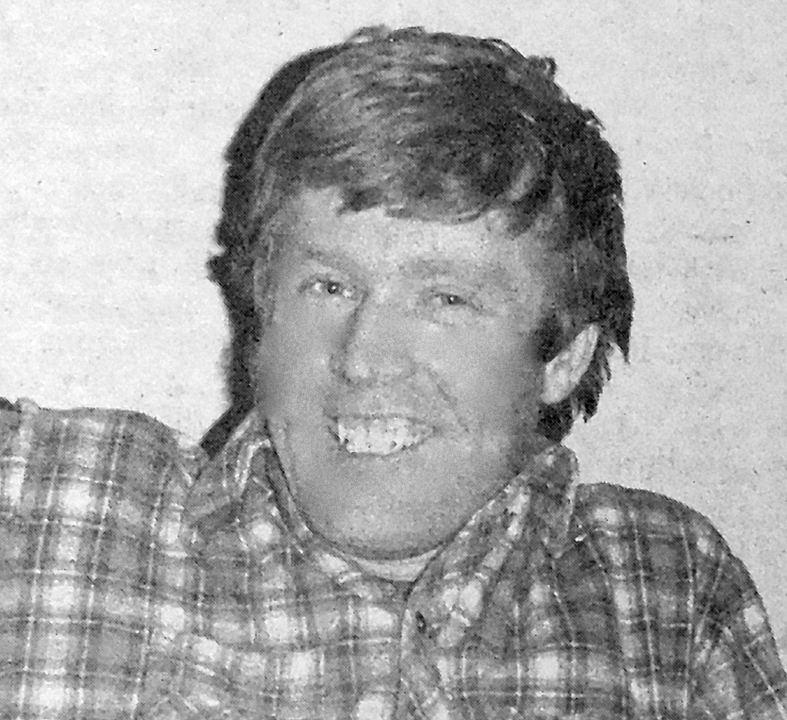 Keith King was running for a position on town council and had the following writeup in an ad that appeared in the Golden Star. Less than a year later the community was in mourning when Keith was killed in an automobile accident and that story appears below the first.
November 15, 1978 – The Golden Star
I am married, 26 years old and have lived in Golden in all my life. I am the third generation of the King family to choose Golden as our home.
While attending Golden Secondary School I became involved with the student council and was also the sport coordinator for the entire school.
After graduation I worked in the sawmill and plywood plant for three years, after which time I bought Kings Trailer Court.
During this successive six years I have actively involved myself with the following committees or commissions: Recreation Commission, N.I.P., Planning Commission, Golden Fastball Society, and Golden Minor Soccer Association.
I feel that my six years experience operating Kings Trailer Park, which is like a mini town, I know some of the problems and situations that can arise.
With over 200 people residing in my trailer park, and miles of underground and overhead service lines I feel I am qualified by experience to deal with the same problems that would arise on a larger scale.
I have my own views on the various issues and I will be more than happy to discuss them with you, but as your representative on council I need and want your input to best represent you.
The Golden Star – September 19, 1979
I believe the taxpayers of the town deserved strong representation on town council. I believe I can supply this. Thank you for your support. "I am involved."
September 19, 1979 – The Golden Star
Golden Mourns A Favourite Son
Coming at the end of a three-week period of deaths possibly unparalleled in the town's history, the tragic death of 27-year-old Keith King in a motor vehicle accident last Tuesday evening stunned Golden residents. Keith and his wife Maureen were returning down at the Cedar Lake Road towards Nicholson at about 9:30 PM last Tuesday, September 11th, having been to look over a trap line that Keith was considering for the coming winter, when his pickup left the road, plunging about 20 feet down the steep bank, coming to rest against a tree. Maureen was able to get out of the vehicle unaided and hastened to assist Keith, who was experiencing difficulty in breathing, from the driver's side. She left him propped against a tree while she went for help, but Keith was dead by the time help arrived. It appears that he died of internal injuries. His death has deeply shocked all those who knew him.
Keith was born in Golden and lived here all his 27 years, contributing to the community in many ways and making many friends as he grew up. Always a good athlete. He became a leader on the sports field while still at school and later as an adult became "Mr. Softball" in Golden.
The intensity with which he lived life led him to offer his services to the community as a whole and last year he was elected an Alderman of the town. He proved himself intelligent and effective in that capacity and many saw him saw in him the seeds of leadership in wider circles in the future.
His parents, Norman and Ethel king, did not know of their son's death until Saturday, when the holiday cruise ship on which they had returned from a trip to Alaska docked in Vancouver. There they were met by their son-in-law and their youngest daughter,Susan, who broke the tragic news to them.
A service was conducted by the Reverend Alan Dixon on Sunday morning at 9:00 in the garden of Ron and Francis Kings ranch at Nicholson. While the early morning sun filtered through the leaves of the encircling trees, reverend Dixon talked to the assembled family and friends about Keith's love of the outdoors. His well chosen words brought comfort to many, and the occasion, those sad, was not without a positive sense of looking forward. Keith's wife, Maureen, had selected some appropriate country and western music to epitomize the uncompromising spirit of her husband and the Reverend Alan Dixon further captured a sense of Keith's vitality when he urged the many friends gathered there not to be sad for nothing had changed. Keith's relationship with all those who knew him and with the community at large has not changed, he said. Death is an interval and, in the hereafter, all will be as it was.
His body was cremated at Kamloops on Monday and his ashes will be distributed from the air over Crystalline Creek, a favorite hunting spot of Keith's. He will be sorely missed by the community but his contribution to the life of Golden will not be forgotten.