Stan Harrison's Memories of the Brisco, BC Area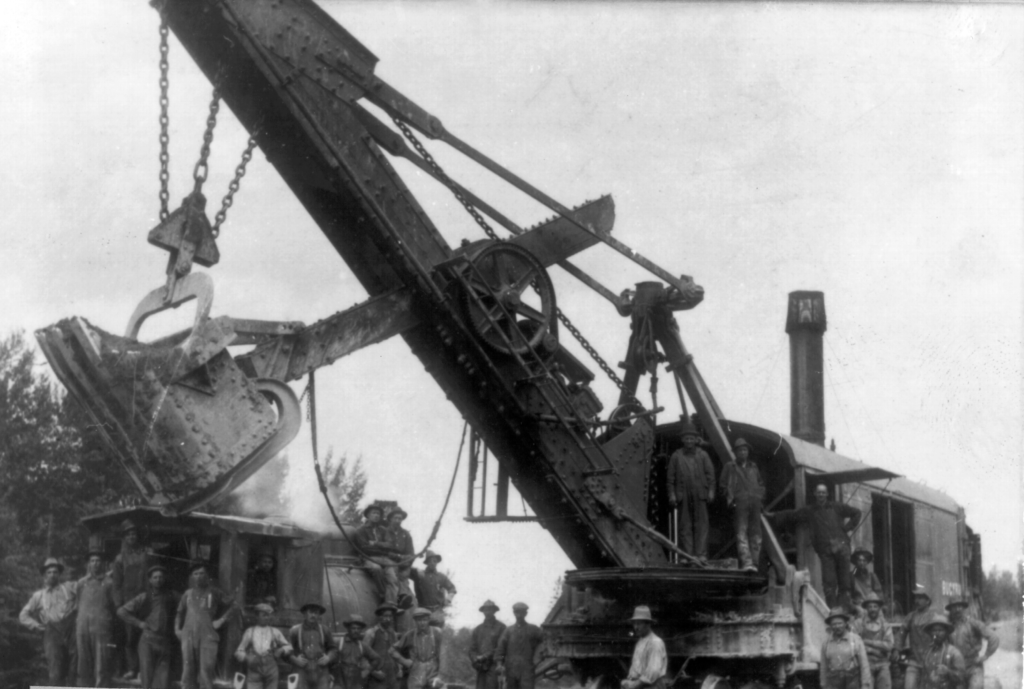 The Harrison Family first came to the Columbia Valley in 1903 taking up a homestead on the south side of Deadman's Creek. These are the unedited memories of Stan Harrison.
"it is interesting to recall where the original road went through the valley. Bridges were built only when there was no alternative. Horse-drawn scrapers were used in building a roadway. It was natural that level areas got the preference. In such places as the Vermillion Creeks, they dug the road along the hillside down to the creek bottom, built a short bridge, and followed along the hillside down to the creek bottom. Some of those grades were very steep and narrow. In event of two cars meeting on a hill where the road was narrow, the car going down the hill was expected to back up to clear.
Mileposts were placed along the side of the road for identification and reference. As I recall, Mile forty-nine was Brisco. Mile fifty-two was where the road turned off to what was known as Steamboat Landing which was a regular port of call on the river. Mile fifty-four and a half was our old homestead. Riverboats were fascinating to watch as they slowly made their way upstream. The mail stage had a regular schedule. Sometimes they carried a passenger. Freight wagons and sleighs had no regular schedule, but operated steadily. There were many designated places along the road that accommodated this traffic. On weekends one might expect to see cars from Golden driving to Radium Hot Springs. The roads were dusty at times and very narrow. All cars carried more than one spare tire along with a supply of gasoline in sealed cans. People owning and driving cars at that time were: J.A. Buckham, H.B. Cornell, Dr. P. Ewert, H.G. Parson, C.A. Warren, Howard McRae and the Nicholson's.
Sometimes during the summer, a small road repair crew would set up a tent camp, complete with cook. The cookhouse was our favorite place to eat. Once when we were checking over one of the men's tents we discovered a small box of Dodd's Kidney Pills. We licked off the candy coating and put the rest back into the box.
The K.C.R. was being built around the Brisco area in 1913 and 1914. It was interesting to watch their operation with just man and horse power. They built wooden culverts as there were no galvanized pipes. Just after the railway was completed we went down to the track to watch a large Chinese extra gang working. They were a happy lot but knew very little English. We thought one fellow was saying "You got pick?" We thought he meant a pick, so we said, "Sure." He asked how to get to our place. We thought little more about it. That evening about ten of them arrived with two long poles and some rope and knives. It turned out that they wanted a "pig." Dad was not too happy, but he sold them a pig anyway. They tied the pig up and carried it home suspended between the two poles.
The Walter Nixon family lived at Luxor (the lower Ranch) for a short while. We would travel together to school. They had to travel five miles, and we traveled four miles. I was conscripted for school a year early to make enough children to open the school. Quite a number of people lived across the river from Brisco. George Morrison was a tie maker. Peter Faber had a small ranch and made first rate wine. Other families were Moran, Powell, Kohorst, Doucette and Hart. Baptiste Paul was a First Nations Chief. They had a fair sized family. I was working near Salmon Arm many years later. I was asked by the police to assist in bring a drowning victim out of the bush near the railway. This proved to be Nick Paul from Brisco with whom I had gone to school. The Herb Bryanton family who were related to the Atchisons lived across the river until 1918 when they moved to Red Deer. Other families were the Allsop, McCreary, Logan, Cobb, Berry, Wolfenden, Mitchell, Atchison, Watkins, Topp and Nelson. Tie makers and trappers were Cotton, Costigan, Brodie, Beaumont, Banks, Moorehouse, Brubaker and others. The first resident at the fist Vermillion was Ashton. This is where Spur Valley Campground is today.
There was a German fellow named Bugrum who was five feet tall and very strong. He dug numerous water wells around the Brisco area. These were usually about five feet square and would be cribbed as they dug down. The dirt was hauled up in a bucket with a windlass. Our well was fifty-two feet deep.
Halloween always came in for attention. Atchisons had a high roofed hay barn with a large hayfork that as used for quick and easy hay storing. After dark several of the boys pushed a horse-drawn hay rake up the end of the barn and attacked the fork to the hay rake, hoisting it up to the rooftop and secured it there.
There were three mountain peaks directly behind Brisco. Alfred Mitchell named these peaks Og, Gog, and Magog. The next small mountain south of there was Teafoe. Across the river was Steamboat Mountain. Another place near here was called Fogarty's, where sloughs drained into the river. Small diversion dams to prevent logs floating into smaller streams were built. These dams were good places to fish for char. About 1920, James Henderson built a bridge across the river at Brisco.
When the K.C.R, construction began, there was demand for railway ties. Ties were made by tie makers or tie hacks in the woods wherever the tree stood. The tree was scored and stabbed according to the number of eight-foot ties it would provide and then skidded down to the river in tree lengths. They were then floated down river in booms and then skidded up on the banks at a convenient railway siding. An eight-foot stick was used as a measure to cut up the timbers as they came out of the river. One man was using such a stick at Edgewater and he overlooked the fact that he would miss at times and probably cut off a small piece of the stick. When the Tie Inspector arrived, he discovered that many of the ties measured only seven foot six inches. He culled many ties and they were sold for wood at ten cents.
When Billy Logan and another chap were staying in an old cabin in the hills one night, they soon found that pack rats had the run of the place. Logan went for an evening walk and this gave the other fellow a chance to play a prank. They had lots of heavy thread, so he gathered up some old tin cans and placed them on a shelf after attaching the string to each other. The other end of the string was placed by his bedside where he could pull it. After they had retired, he pulled the string and down came some cans. It was very dark and Logan thought it was a rat, so he took his six gun and shot blindly hoping to scare the rate. This went on until there were a few small holes in the roof.
One winter night before Xmas, the train was heading south from Golden to Lake Windermere. They stopped at Edgewater, and discovered they were missing one trainman. He had last been seen at Parson. This looked like trouble, so they uncoupled the engine (No. 475) and backed up. The trainman was found walking along the track between Parson and Harrogate. It seems that while they were stopped at Parson, he decided to walk up to the head end to give the engine crew a quick Xmas drink. No one else knew this and the train pulled away without him. Everything turned out well. They stopped at John Thorson's section house on the way back where there was a party in progress. Jiggs Atchison found his way up into the engine while it was sitting unattended. He released the brake and got it into forward motion. He pulled the lever back and it went into reverse. This went on until someone else took over. He had no idea how to stop it. It was lucky he did not touch the throttle.