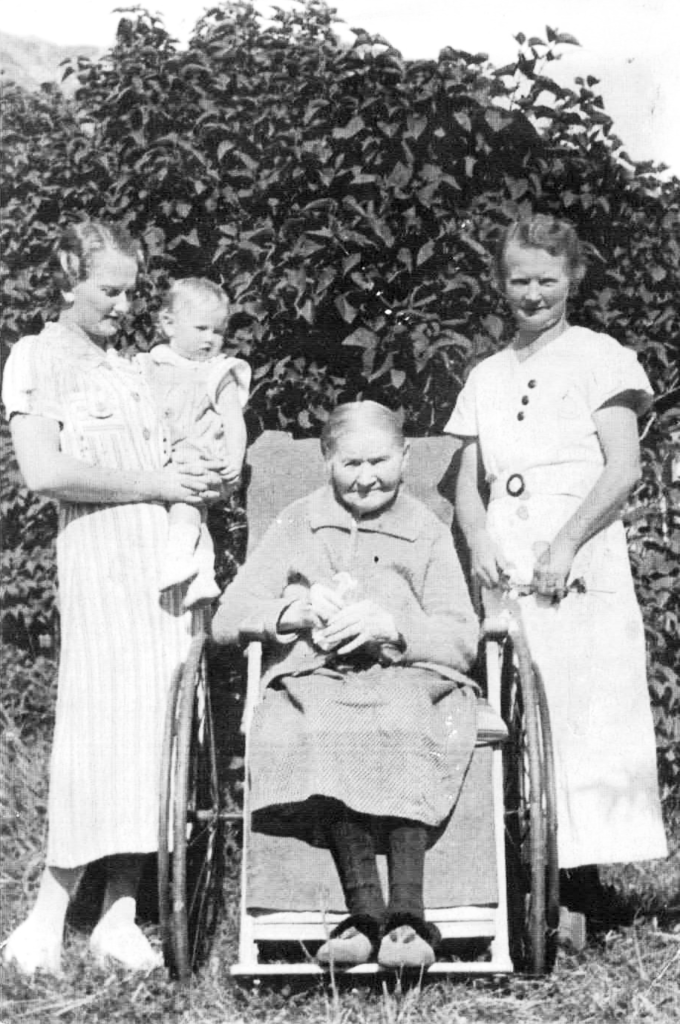 Claus Nicholson by Beda Blain
From 2000 Golden Memories
Klaus Victor Niklasson (Clause Victor Niksolson) was born September 3, 1886, the fourth child of Nils Daniel Niklasson and Charlotte Marie (Johansdotter Niklasson in the Parish of Langasjo in the province of Kronsberg, Sweden.
Claus came to Canada in 1892 with his mother and brothers, Frank and John and sister Nannie. His father had come a couple of years earlier to work on the C.P.R. Nils had also taken up land about 5 miles South of Golden. Three more children were born here, Otto who died in infancy, Oscar and Annie.
The Nicholson family later moved across the road and about half a mile farther South where grandma lived out her days. Oscar and Rose (Carey) built on the property also as he ran the farm until his retirement. Only the barn remains. The rest of the farm is now the town of Nicholson.
Rhoda Charlotte Annie (nee Tibballs) Nicholson came to the Horse Creek school for the 1920-1921 school year, meeting Claus at that time. They were married June 29th 1922. Their first daughter Gwendoline Victoria was born September 1st 1923 and Beda Louise was born April 5th 1925.
Gwen was a talented and brilliant young person. She finished her first three grades in Lady Grey's school in Golden in two years period we moved to Leanchoil, BC in August 1931 where Gwen continued school by correspondence and Beda started school also by correspondence.
Claus was Park Warden at the West End of Yoho Park from September 1931 to September 1951 so both girls took all but grade 12 by correspondence. For that last year they each in turn went to Victoria and lived with their grandma grandmother Tibball taking that last grade at Victoria high. The idea was to give us interaction with others our own age.
Beda's growing up years were quite different from many as she lived ¾ of a mile from the nearest neighbors to the east Misko section house where there were usually only men. Eventually there was Mrs. Kattelus' and Olga (I don't remember her last name). Gunner Carlson married Olga. The Kattelus' built a steam bath and everyone was welcome. Saturday nights we went up and had our bath then there would be coffee plus all sorts of goodies. When Olga came then all the goodies were made two ways, Ukrainian and Swedish. There was a chap there for several years who played the accordion and in the little living room we would dance.
Besides doing our schoolwork by correspondence, we did Sunday school by post and were Lone Guides and Rangers. To do the latter, a girl guide leader Captain in Kamloops made-up a scrapbook like letter, it was sent to the patrol leader who added whatever she had to impart and then it went to each guide in turn, the last returning it to the Captain. There were instructions for various tests and we replied that we could what we could in writing. Where physical tests had to be done, like lighting a fire outside with no more than two matches and no fair, kindling from the woodpile or cooking over same fire, etc then our parents had this sign. There was a district camp at Blind Bay on Shuswap Lake in the summer and Beda went a couple of years meeting other Lone Guides as well as many more girls her age.
Our other activities were cross country skiing, not like today though. I had skis with a leather strap over the toe and one around the heel and whatever you are for overshoes was what you had on your feet. We snowshoed some. We used to ski up to Tocher's at Otter tail, 10 miles, one or two weekends a winter to play with Jim and Ann.
We knitted, embroidered, and as part of our school work at first, sewed and read. We could send to Victoria for books which we could keep for a month.
During the summer we had quite a few visitors as people stopped for information from the Warden, or if they had been climbing or hiking in the area, waited at our house till train time. We met some very interesting people that way a geologist from California who later sent us the National Geographic for a number of years; doctors from the Mayo Clinic and two ladies from Britain who had been ladies-in-waiting to the then Duchess of York and they described the doll house the Welsh people had given to Princesses Elizabeth and Margaret Rose.
My memories of life at Leanchoil are really pleasant ones even though we caught rainwater in a rain barrel in summer and melted snow in winter for bathing and washing. We carried drinking water up from what is now called Leanchoil Lake according to beautiful BC magazine and during the winter other humans human beings outside of the house were few and far between; cooked on a wood stove; bathed in a tin tub; hung washing out on the line even at minus 30 degrees Fahrenheit and brought it in stiff as a board to thaw on the rack that pulled up to the ceiling (oh did it smell so nice!) and ironed with sad irons you only see in museums now.
We were young and it was not out of the ordinary for us, but I admire my Mom more and more for her patience and skill at making special days special, not permitting us to get sloppy in dress or deportment, though there must have been times when she was terribly lonely for female company.
To the West 1 ½ miles was Leanchoil station where there were three operators and their wives and families if they had them, as well as a section house with the foreman and one or two section hands.
We walked or skied to the station almost every day after we had finished our lessons, to get the mail which would be thrown from the mail car as the passenger train went by. Any mail to go out was tied in a bundle and thrown on. Only once or twice do I remember a miss. Then if it bounced under the train there was just confetti. If you wanted to get on the train the operator flagged the train down in it would stop long enough to pick up or let off passengers. One of the operators in 1932 was Irvine Proctor, whose wife Laura nee Beech was born in Palliser when it was a mill town. She only passed away about two years ago at the age of 96 in Cranbrook where her children Shirley and Roy live.
Though Gwen suffered rheumatic fever after having meat measles in 1930, she still managed to finish grade 12 with high marks and entered the University of Manitoba on her 16th birthday. Though she was not strong, by spending her summer holidays mostly at the coast, resting, she graduated with a Bachelor of Science degree in home economics and went on also to get her dietitian's pin from Vancouver General Hospital. However, except for one summer working at the Summerland Experimental Farm, she was never well enough to put her education into practice. The last year of her life was spent mostly in hospital where she signed herself on as a Guinea pig for the use of the then new miracle cure cortisone. Her science background gave her the knowledge to make daily observations on the changes to her condition occasioned by the administration of that potion. She died November 4th, 1952.
Beda was more average and completed school at the age of 18, going onto St. Joseph School of Nursing in the September. Of course, there were no orderlies, (war time) so the probationers did a lot of lifting. After several months of training, it became evident that there was a problem with her back and with a broken heart she gave up nursing. After a couple of months of treatment Beda apprenticed as a Weaver with the Island Weavers of Esquimalt. In the summer of 1944, the Anglican church was asking for workers for the residential school at alert Bay, and Beda, always fond of children, answered the call.
In January 1945, Beda still not happy with having to set aside her nursing career, decided to join the Armed Services hoping to train as a laboratory assistant. However, the powers that be had other plans and she became a clerk serving first in an orderly room and later in the medical inspection room with a doctor and a lab technologist.
Beda was on several bases in Ontario common one being Camp Ipperwash where she met Bruce Blaine who was to become her husband June 14th, 1947, at the Warden's cabin at Leanchoil BC.
They had three children, Michael was born November 28th 1948, Heather was born July 2nd 1950, and Ian born November 19th, 1951, all in Vancouver.
Beda and Bruce lived in Vancouver, Toronto, Vancouver and then in 1971 went farming just out of Lumby, BC. Bruce died April 21st, 1980 after a second heart bypass operation. Beda remarried in 1984 to Don Bateman who died in 1995. Beda lives in Lumby now. Her children, Mike who married Diane Lewis in 1981 has two children Carl Klaus born May 12, 1985 and Charlotte Joan born March 27th, 1988 also lives in Lumby as does Ian and his wife Kathy (Hill) 1976 and daughter Lynda Ann born June 17, 1980. Heather and husband Robert McInnis and three daughters Ruth born March 26 1981, Grace Andrea born April 26 1983 and Janet Rose, born August 14, 1987, live in Vernon, BC.