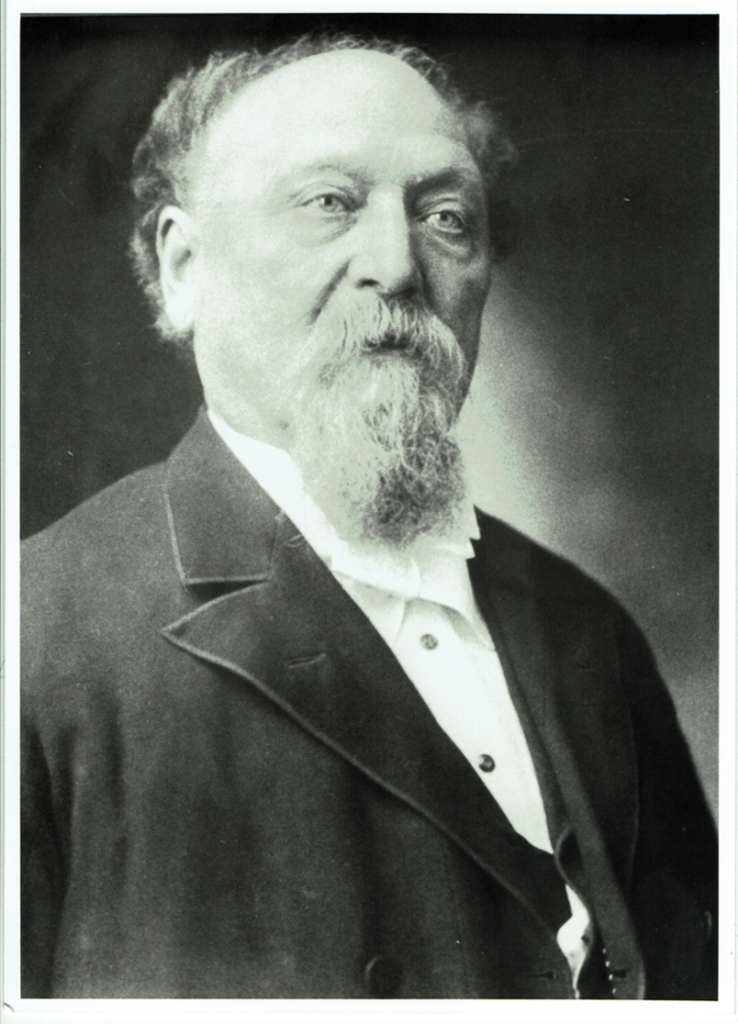 One of the most interesting and colorful personalities emerging from the history of the past is Stephen Redgrave. As Senior-officer, Sheriff of Kootenay he served the Donald-Golden area from April 1884 until his death in March 1903. Although there has not been a great deal written about his career, through information from the British Columbia Archives and by interviews from the well-known pioneer of Golden, Mr. Thomas King a few facts have been assembled.
Stephen Redgrave was born in England in 1831 and received his early education at the famous Rugby School. In 1948, he began the study of Law and during the same year he married to Martha Susan Lincoln. Mrs. Redgrave was the eldest daughter of Benjamin Lincoln of Sackville Street, London, and niece of the late Robert Cox. Burlington Street, London, publisher to her Majesty, H.R.H. Prince of Wales and the late Emperor. In 1852, the Redgrave family left England to make their home in Australia. While in Australia, he was employed at different times as a warden at a penal settlement, a mountain policeman, and a miner. He was several times wounded in brushes with bush rangers. After a sojourn of seven years, Mr. Redgrave acquired the urge to see more of the world and he left Australia, and their travels took them to Africa, from there back to England and then to Toronto, Canada. Here he was appointed Inspector of Police and he remained in Toronto for the following three years. In 1862, he formed the first and only expedition by overland route from Toronto, Montreal, Goodridge, Hamilton and other places, the party rendezvous being at Winnipeg, then known as Fort Garry. The journey was sometimes a pleasure, but, nevertheless presented many difficulties.
After six months had elapsed, some of the party arrived in the Cariboo by going down the Fraser River and others went by way of the Thompson River to Kamloops. A published version of this journey is contained in M.S. Wade's book entitled "The Overlanders of '62." To download a copy of this book in pdf click here https://open.library.ubc.ca/collections/bcbooks/items/1.0374219
In the fall of that year, Mr. Redgrave was appointed one of the prison officials in the old gaol at Victoria. Later he proceeded to Cariboo where he became interested in mining, and for a year was acting constable under senior officers and Mr. W. Cox who was gold commissioner at that time. His salary was reduced from $215.00 per month to $125.00 per month, he resigned and joined the Overland Telegraph Company, holding different positions therein for two years until work was abandoned. He then took his family south and went extensively into farming and fruit raising near Norfork, Virginia and later near Alexandria, Victoria where he purchased what was known as the Redgrave Farm. Very little is written of the years spent in Viriginia and after eight years he returned with his family to British Columbia.
In 1876 he was appointed constable and recorder, with added duties, for Cassiar. One of the "added duties" was that of Chinese collector. The Chinese immigrants who entered Canada and accepted a job, were required to pay a tax and it was Mr. Redgrave's responsibility to collect this levy. He was with Mr. Onderdonk, at Yale at the beginning of the construction of the C.P.R. from the Pacific end and was his first commissary. He also served in other capacities for three years. This project has been discussed at some length in Mr. Pierre Berton's Book "The Last Spike."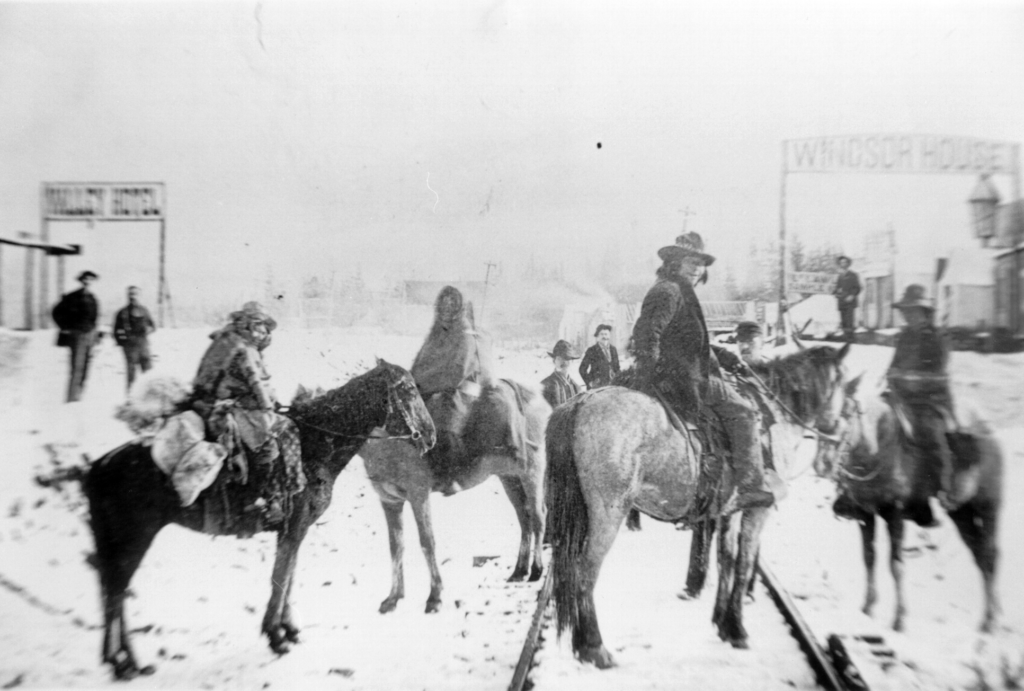 In April 1884, he received his appointment as Sheriff of Kootenay. His duties included those of mining records, registrar of the county court, assessor and collector, registrar of births, deaths and marriages. Also he performed the duties of stipendiary magistrate and notary public for the province of British Columbia with office at Donald. Later, Mr. Redgrave's office was transferred to Golden and he was relieved of a few of his duties as the more important ones demanded a greater share of his time.
It had been noted that in Mr. Redgrave's long and interesting life, he spent from nineteen to twenty years in the Donald-Golden area. It must follow then that due to his many duties, he indeed played a great part in the early development stages, especially in the early historical aspects. He many assume that the early marriages, mining records, births and deaths were recorded by him, or his deputies. Because of the great expanse of his territory and difficulty in communication, it was necessary for him to appoint deputies. These deputies were required to sign a form which read, "I,_____, do swear that I will faithfully, without favor affection or ill will, discharge the duty of special constable, and that I will cause the peace to be kept and preserved to the best of my power while I continue in office. So help me God. The foregoing was copied from a form found in an early prison record book. The book also shows the names of S. Redgrave also that of Harold Redgrave as arresting officers. The records later reveal that Harold Redgrave was the son of Stephen Redgrave. Other arresting officers whose names appeared were John C. Green, James Cullen, H.R. Moodie, A.P. Cummins, F.C. Lang and others.
Though Sheriff Redgrave was known throughout the district, his home residence was at Donald, it being the largest settlement at that time. Brief items of interest appeared from time to time on the Donald Truth, the newspaper. On 1886 a short account appeared in the "Truth" which told of interest being shown in Horticulture when the good Sherriff competed with Judge Vowell of Donald in the growing of lettuces and other garden truck.
Another item of interest tells of four barrels of whiskey which he, or one of this duties had confiscated. After some time the whiskey was put up for auction. Strange to say, there were no bidders. The price of whiskey at that time was $10.00 a gallon in Calgary. Nothing is written of what happened to the whiskey.
There is no detailed story of Mr. Redgrave's family except through the book, The Overlanders of 62 mentioned before. This book establishes the fact that Stephen Redgrave had three sons and three daughters. The eldest son, Stroud Lincoln was born in Toronto and was educated in Eastern Canada. He came West with the Overlanders and made his way to Victoria where he joined the police force. He had, however, spent some time in the Kootenay's before finally settling in Victoria. The account of his life appeared in the Victoria Colonist, 1916 at the time of his death. Other children mentioned are Harold and Minnie. One daughter is known to have lived in Donald. Again the Donald Truth gives an account of Mrs. Redgrave and her daughter travelled to California in the hope that the daughter's health might be improved. She had suffered a serious illness in Donald. The story is told in an edition of the paper in 1886.
In the year 1893, Sherriff Redgrave's life was saddened by the death of his wife, Susan. She has suffered a lengthy illness. The Golden Era date September 9, 1893, has printed a detailed account of the events which led to her death. It did not describe the nature of her illness. While ill in Donald, she was attended by Dr. Herbert who recommended that she be transferred to Victoria. She remained in Victoria for a month and then proceeded to San Francisco. The change seemed to bring about a great improvement and, in due time, she returned to Donald. In Donald, in order to gain back her strength, she began taking short walks each day. Suddenly, one day, she was stricken again, and this time, passed away immediately. Mrs. Redgrave was considered a great lady by all her knew her. Because of her background and experience in her father's home in early years in England, she was a great help to her husband, and assisted him in making important decisions.
The year 1893 was one of great sadness and unfortunate incidents for the sheriff. His son, Harold, became involved in a shooting incident which resulted in a conviction and he was sentenced to serve a term in prison for attempted murder. This affair affected the sheriff very much and it is said that he was never his old self again. A detailed account of Harold Redgrave's trial and conviction appeared in the Golden Era, Saturday, January 6, 1894.
In April 1894, the following account appeared under the heading "Donald Doings," On Tuesday evening there was a large gathering in St. Peter's Church at the wedding of Mr. S. Redgrave, Sherriff of Kootenay, and Virginia Gertrude Rawle of Homer, Louisiana, the ceremony being performed by Archdeacon McKay. As the sheriff, with his bride, who towers five feet eleven inches, entered the church in fill dress, being supported by Mr. and Mrs. Stirrett, the organ sent forth those sounds whose notes have recorded many other happy events of the kind. The great and solemn marriage service having ended, which made them man and wife, a warm greeting was extended to them by those present who accompanied then to the Sherriff's residence where an excellent menu awaited them and to which full justice was done. After the usual health of Mr. and Mrs. Redgrave was drunk and fully responded to by our esteemed sheriff, the bride rose and, with energetic movements, cut and distributed the wedding cake which was splendid to the taste and prettily ornamental. Singing and dancing was kept up till the wee sma' hours and the largest wedding given in Donald passed off agreeable to all, coming to an end by the singing of the National Anthem. There was present Rev, Archdeacon McKay, Rev W.R. Ross and his wife, Mr. and Mrs. Griffiths, Mrs. M. Redgrave, Miss Rawle, Mr. and Mrs. Patmore, Mr. and Mrs. Baker, Mr. and Mrs. Trickey, Mr. and Mrs. Freemantle, Mr. and Mrs. Peasley, Mr. and Mrs. Penzer, Mrs. Copeland, Mrs. Hobbs, Mrs. and Miss Spragge, Messrs. Blythe, Bolton, A.P. Cummins, S. Ruttan, Halloway, W. Alexander, W. Ross and many others. Many notes of regret at non-attendance were received and some nice souvenirs were presented to the bridge. The foregoing account of Sherriff Redgrave's second marriage appeared in the Golden Era of Saturday, April 21, 1894.
The number of guests who attended the wedding would indicate that there was a sufficient number of people to enable the inhabitants of Donald to hold social gatherings, dances, concerts and gay affairs.
From the year 1894, although an ageing man, the good sheriff carried on with his duties as sheriff and police officer. Police prison records show that in October 1902, one Lang See was arrested for selling liquor on his premises without a license. The accused was fined $50.00 or two months in gaol. It was saddening that in the declining years of his life, his wife, Virigina left him and returned to the State. On March 26th, 1903 a special item appeared in the Golden Era headed "Sudden Death of a Sherriff" quote "Stephen Redgrave, Sheriff of the County of Kootenay died in his city yesterday while arresting a man for disorderly conduct. Death was caused by heart failure due to over-exertion." The following is an excerpt from the Vancouver Daily Province written Thursday, March 26, 1903.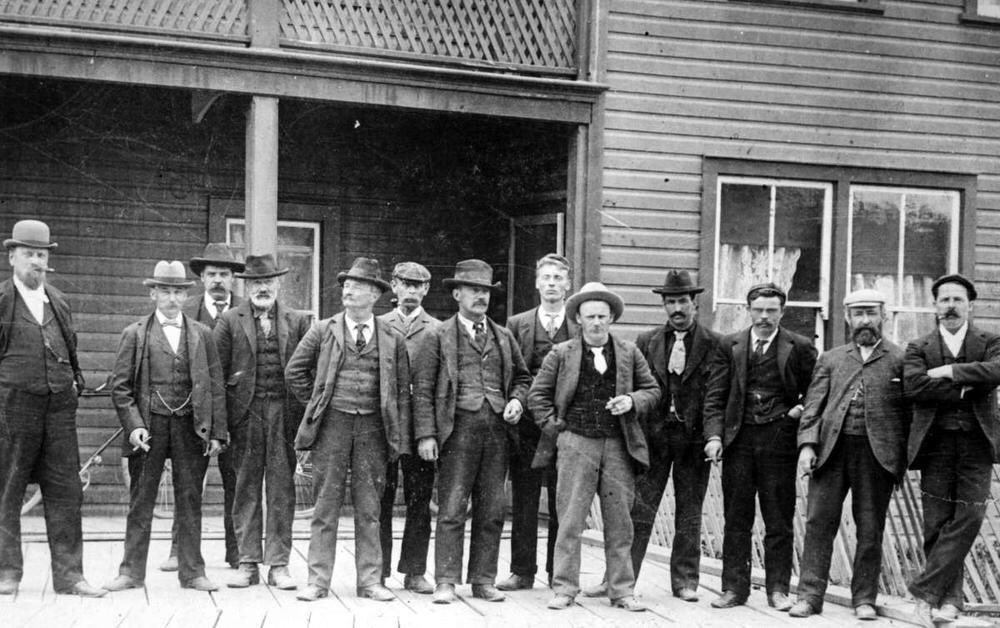 The late Sheriff Redgrave was one of the most widely known men in British Columbia. He had been a government official almost since the construction of the railway through the mountains, and was personally acquainted with every railway employee up and down the line. He was formerly stationed at Donald from his tales of marvelous adventure, he became known as the Munchausen of the Rockies. His stories were told all along the railway and were a source of great pleasure to eastern tourists. All the tales tended to point the moral of the greatness of British Columbia and were always good natured. Sherriff Redgrave's bear stories have been carried all over the country by commercial travelers whom he entertained in Donald and Golden. A further insight into his character is revealed through lines written to his wife, Susan, upon his return after his absence of four years. Quote:
I sit me down, I look around
My eyes I cast above me
Methinks I hear far off a sound
In accents sweet, I love thee,
Long parted we have been
But meet to part no more
Until a grander scene
We wander and explore.
In concluding lines of the poem, he speaks of their lives together in eternity.
On a former occasion when sending a photograph of himself to his father in England in February 1868, he writes:
Before me is a likeness true
The face the features, there I view
Are not exactly those I knew
Some years ago
'Tis that as with reflective mind
I gaze upon it traced I find
How much of life I've left behind
How brief to live!
Further lines of the poem suggest a longing for his boyhood home in England and for the happy days of his youth.
Such was the life of Stephen Redgrave. His lonely grave may been seen in the Golden Cemetery, the headstone bearing the inscription: Stephen Redgrave – Sheriff of Kootenay for twenty years. Died in the execution of his duties, March 25, 1903. Age – 70 years. It tops the hill overlooking the Columbia Valley which he loved and served for so many years. A further tribute to his memory is the naming of the flag stop Redgrave which is on the C.P.R. mainline west of Donald. Nothing remains in that spot except the tall evergreens and aspens which tower and reach up to the blue sky and symbolize peace and tranquility to his memory.