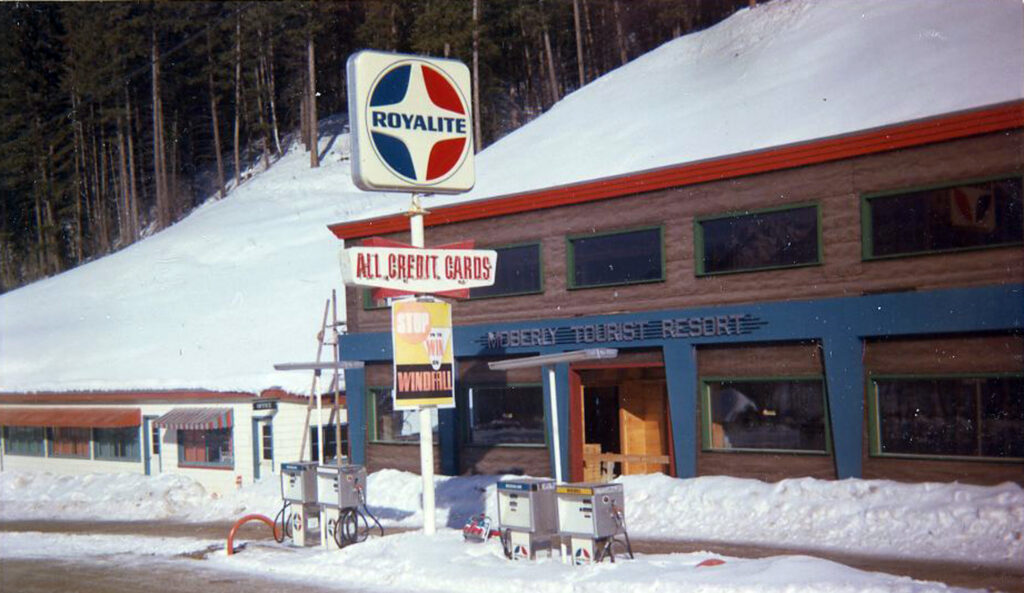 Moberly, BC, site of Walter Moberly's camp became famous locally because of a resident that would come later. Stephan "Steve" Petriuk was born in Mamiesti Bukowine, a province of Romania on Christmas Day in 1905.
As a young man he worked his way to Canada after spending a couple of years working in a brewery and ended up in Moberly where he came to work for Emerson Coupland clearing land for $30.00 a month. He was quite frugal and some he had saved enough money to pre-empt a bit of land right across the Big Bend Highway from the CPR station and train masters houses. Here he built the Moberly General Store and began advertising that his was the only store between Golden and Revelstoke.
We he first started out in business in Moberly his English was really poor but he took correspondence courses from the Province of BC and was soon able to get by. In fact he continued to take courses for many years because he loved to learn.
Community meant everything to Steve and he loved to take part in big get-togethers with his neighbors and friends. He was a member of the Moberly Ski Club and the Blaeberry Forde Moberly Rate Payers Association who supported whatever new event being proposed. He was a man of honesty and integrity.
His proximity to the highway was perfect for a gas station and Steve put in a gas pump on the west side of the highway. At the time he didn't have electricity so you had to hand pump the gas but as he got busier he built the new Moberly Tourist Resort on the East side of the highway and moved his gas pump across the road. Here at the new store he had groceries, gas, fishing licenses and tackle for sale to anyone passing by and once the announcement was made that the government would build the Trans Canada Highway past his door he added some tourist cabins for motorists to stay in.
It was in his store at Moberly that he would entertain anyone who would stop to listen and at Christmas time he would lay out a big spread in the store to share with neighbors and friends.
Over the years that the Moberly Tourist Resort was in operation, Steve changed gas companies frequently as you will see in some of the pictures. Gone but certainly not forgotten. Thank you to Julia Cundliffe for donating these pictures to the Golden Museum.