Grandma's Favorite Scoundrel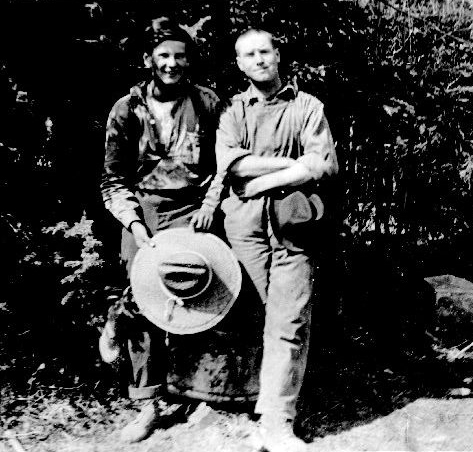 Sometimes even today a character will come along that really merits remembering. You've probably known someone like that or have heard of them at least, those that had the uncanny ability to tell a story. My grandmother told us many stories of the hard life that she and the family survived, and when I look back I wish I had really listened, instead of just nodding and smiling.
Grandma told us about her neighbors in the valley, many of whom she didn't get along with. It's not that they weren't nice enough people by others standards, it's just that grandma had standards that no one else was privy to. She often talked about Henry Rose with whom she carried on a long standing battle about water rights but probably her favorite scoundrel was Thomas Hawkes
Born and raised in England Tom came to Canada with some of the Piggot family after they read an advertisement in the London daily newspaper for the Columbia Valley Orchards, in Windermere, BC. Tom was actually married to one of the Piggot women, and he and the older boys came ahead of the rest of the family to prepare a place for them. Once they hit this part of the valley they all decided to stay instead of carrying on to Windermere.
Tom homesteaded the SW ¼ 35-25-21 and called his new home Edenbridge Ayrshire Farm. I think that it must have been the view that got the best of him because the land was mostly rock and steep, its greatest asset was that once you got to the bottom of the steep slope you were on the Columbia River.
Tom had a great deal of ingenuity and little things like lack of good grazing, poor soil and no irrigation were just minor problems for him.
He soon had begun the task of clearing a field and building an irrigation ditch. The irrigation ditch was in itself a marvel of technology. Using hand sawn lumber, he built a box in 'Eleven and a Half Mile Creek', to back up the water. From this box he flumed the water to the irrigation ditch that he had dug by hand from one end of an eighteen-acre field to another. A big old barn was built and the fact that they lived in a tent and later a small cabin didn't bother him a bit, in fact, he seemed to thrive on the challenge.
The outbreak of the first world war took many men from the valley and enlisting along with his brother Edwin (Teddy), Tom began seeing action right away and was soon reported injured. Upon return in March 1919, he was given the Distinguished Service Medal after having been wounded fifty-eight times.
A champion swimmer and boxer in England, Tom was soon competing in Fun Days that were sponsored by a number of different organizations. He was also very instrumental in getting the community to hold the Annual Fall Fair. My grandmother told us a story about how Tom used to go up and down the valley getting everyone interested in competing.
One of these visits to grandma's he asked her if she was going to enter her chickens and she said "Lord no, look at the scruffy dirty things, they wouldn't even take the booby prize." But Tom said "Well, come on we can fix that." Together he and grandma filled the two old bath tubs full of water and put some laundry blueing in one tub. They scrubbed the squawking birds in one tub and then dipped them in the tub with the blueing. What a sight that must have been. They put all the wet hens on the ground and went in to the house to have a bite of lunch. When they came back there in the yard where a flock of pretty white hens. Grandma entered them in the competition and won a blue ribbon.
Tom himself was responsible for taking many ribbons and not just locally. In 1934 he won the Gold medal for B.C. for his Ayrshire cow, White Beauty's Blossom, in the R.O.P test. This cow led the two-year-old class in the 265 day test with 10,951 pounds of milk and 508 pounds of butter fat. That was 3,225 pounds of milk over the requirement and 215 pounds of butter.
Thomas continued to make improvements to the property and in 1935 a new house was added. Right after the second world war Tom sold the property to my father (Harold Rauch) and moved to the Okanagan.